Holy Trinity Catholic School has educated students in the Turtle Creek area of Dallas since 1914. The Tiger Gala is our largest fundraising event each year, with proceeds going to support our amazing enrichment programs & to provide tuition support for students. This year our goal is $220,000.
Together we can raise support, and our voices for HTCS!
"Hear Us Roar"
Receive an official Roar 2022 t-shirt with your purchase of a ticket.
Wear your HTCS swag to this year's gala!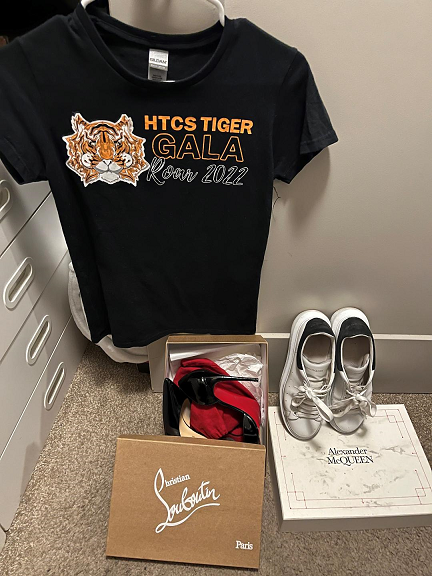 HOW TO BID
If are attending, use the link/login on the Tiger Gala email – "You Are Registered As A Guest" – you received to bid. If you can't locate your email, click on Login above & then click on Forgot Your Password. Also, to expedite check in at the event, click on Express Check-In.
If you aren't attending, register as a Web bidder by clicking on Register above. If you bid in last year's auction, you will already have a login & can click on Login (and then Forgot Your Password). You'll be prompted to enter your email address & will be sent an email with your login details.
ALL BIDDERS
A credit card is required before you can complete your 1st bid. You can do this by clicking on My Account and then My Personal Info. Click on the Update Settings & Setup Express Pay button, then add your credit card information.
The auction catalog is listed on the left. For item information or to place a bid, click on the item. To place a bid, click on Bid on This Item Now.
The screen displays the current high bid, bid increment & the minimum next bid. The Your Bid box shows the minimum next bid. You may place a single bid, at the Your Bid amount by checking Regular Bid, OR place a maximum amount you wish to bid by updating the Your Bid amount & checking Auto Bid. Auto Bid automatically rebids for you when you are outbid, up to the maximum you have specified.
Click on Submit Bid to complete your bid.
You will receive text notifications when you've been outbid. If using Auto Bid, the outbid notice will be followed by a "You are the high bidder." text, & you do not need to rebid. Winning bidders will receive a text at the end of the auction that they have won an item(s).