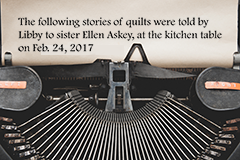 Each quilt has a story. The stories for the quilts were told by Libby to sister Ellen Askey, at the kitchen table on Feb. 24, 2017 while spending the weekend at Ellen and Bill's house in Magnolia, Texas. Stories are paraphrased by Ellen with Libby's exact words in quotes. Additional stories were added as Libby reflected on her creative journey in the process of gathering the quilts for this auction. To read the story of each quilt, simply click on the image of the quilt. Enjoy!!
Upon learning of the Libby's intent to offer her collection for auction, several world renowed quilters contacted her. Among the comments:
Michael F. James
"When I think of energy, color, pattern and movement, and 'makin' a joyful noise' I think of Libby Lehman's work. Her quilts embody all of those qualifiers and more. Squares and circles loop, intertwine, fuse and dissolve through spatial illusions that seduce and intrigue. The magic that she creates with needle and thread is unparalleled, and has inspired legions of today's quilters. Hers is a unique body of work that builds on the past while standing squarely in the present."
Professor and Chair
Dept. of Textiles, Merchandising & Fashion Design
University of Nebraska–Lincoln
Alex Anderson
"Can an event be bittersweet as well as exciting? Purchasing a quilt made by Libby is a once-in-a-lifetime opportunity. Libby was a trailblazer and innovator when quilting was making a comeback. Her journey from traditional handworker to groundbreaking machine quilting makes each creation of hers more precious. Libby is simply amazing: she set the bar very high for excellence in quilting, inspiring others to follow her lead. Her studio art quilts have won so many awards, and they appear in private, corporate and museum collections. There will never be another opportunity after this to own one of her quilts. Her collection is definitive, but also finite. And anyone who purchases one of her creations will cherish it forever."
Best-selling Author of 30 quilting books
Silver Star Award Winner – International Quilt Festival
Co-founder and Co-host, The Quilt Show
Ricky Tims
"I have been friends with Libby since 1994. She is a true "national treasure". If you have ever had the opportunity to take a class of hers, attend one of her lectures, or just talk to her, you know this to be true. She has always been innovative in her quilting and a perfectionist with her workmanship. Unfortunately, in 2013, her quilting career ended abruptly after brain aneurism led to a massive stroke. She has made a miraculous recovery and is enjoying a wonderful quality of life. It is a sad truth that she will never again be able to quilt as she did prior to her illness. Libby is a great friend and I love her dearly! She is a light and inspiration to us all."
Internationally recognized quilter, teacher, and speaker
Best-selling Author
Co-founder and Co-host, The Quilt Show
Maurine Noble
"Libby Lehman is an innovator in the field of decorative machine stitching and a master of the art."
Author of the bestseller, "Machine Quilting Made Easy"
REGISTER TO BID
** All Fields Are Required Unless Noted.